Rival Stars Horse Racing mod + apk 1.35.1 Weak Opponents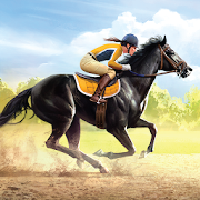 | | |
| --- | --- |
| App Name | Rival Stars Horse Racing |
| Genre | Sports |
| Developer | Pikpok |
| Size | 932.9Mb |
| Latest Version | 1.35.1 |
| Mod info | Weak Opponents |
| Update | July 28, 2022 (4 months ago) |
Description of Rival Stars Horse Racing
Maybe gamers are now too familiar with the usual game genres like role-playing, survival, action, or simulation. If you're looking for something new, why not choose Rival Stars Horse Racing (Mod, Weak Opponents)? This is the type of game that I want to introduce to you today.
This game has many similarities with other racing games; the only difference is that you will control the racing horses, not expensive supercars. Thanks to its impressive gameplay and sharp graphics, this game has over five million downloads worldwide. Enjoy it now!
Gameplay
Basically, you need to control your horse, outrace other players and be the first to finish. You will race on a flat track with no obstacle, so everything you need is a fast and resilient horse.
About the controls, you will see two virtual arrow keys on the left side of the screen used to adjust the movement of the horse. If you want your horse to turn left, simply swipe to the left, and likewise if you want the horse to turn right. To the right of the screen are a Sprint button and a Slow Down button. When you want to speed up, keep the energy bar full and hold on to the Sprint key. Also, use the Slow Down button to let your horse gain momentum after acceleration times so that the energy bar fills up faster.
If you want to see how far away your opponent is, using a virtual button with a camera icon will help you change the angle of view and observe the minimap at the top of the screen.
Take Care and Train Your Racehorse
At the beginning of the game, you can buy a horse named The Spirit for only 1000 coins, and you will stick with it for quite a long time until you reach a higher level. Later, your horse will level up and increase its stats after each victory. For the horse to increase each type of stat you want, hire a trainer to train it. However, if you are in training, you will not be able to take it to the race track.
The game offers two modes to play:
Story Mode: Complete your athlete career and adventure across Europe's racetracks to conquer championships
Online mode: Compete with other players
Horse Breeding
To get more racehorses in your collection, you can unlock horses with the prize money. After each race or breeding of two horses, you can create a new breed with outstanding indicators of speed, endurance, and morale. This is an interesting feature that players deeply love in this game. Each horse you create is unique, which means it will have a completely separate appearance, characteristics, stats, and pedigree history. Interesting, isn't it?
Graphics and Sound
With detailed and sharp graphics, Rival Stars Mod Apk takes you to a beautiful suburb with muscular racing horses. The scenes in the game are also reproduced honestly and harmoniously. Besides, the sound of the game also makes the player feel excited, especially the commentator's words quite match what happened on the track.
Download Rival Stars Horse Racing Apk + Mod
Our MOD will integrate the weaker opponent feature. With this MOD, you can easily defeat your opponents and become the champion. Download and play the game for free now!
User Reviews
Write a Review
We gather comments to provide users with the latest information.